InStart®
Washport
Masport Quickcut® Blade System
An excellent cut and catch petrol lawnmower that features a premium non-rust aluminium deck. The new Briggs & Stratton 550ISI Integrated InStart® lithium-ion electric push button start engine takes the guessing game out of starting your lawnmower for an easier experience 
Masport InStart®
Briggs & Stratton's InStart™ lithium-ion electric start engines, take the guessing game out of starting your lawnmower. No more priming, choking or pulling the rope simply push a button to start the engine.
Masport Quickcut® Blade System
For superior cutting, mulching and catching performance Masport mowers are fitted with unique blade cutting system. The Masport Quickcut® blade is a top quality specially designed blade for cutting and mulching.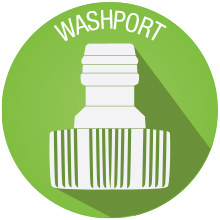 Washport
Hose fitting point on the housing to clean the housing while the mower engine is running, increasing the life of the chassis and improving cutting efficiency.
SPECIFICATIONS
Engine Make & Model: Briggs & Stratton OHV Series 550ISI
Housing: 460mm (18") heavy duty aluminium non rust chassis
Cutting Width: 460mm (18")
Cutting Height (mm): 10 - 80
Mulching Function: Cut, Catch & Mulch
Catcher Type: HDPE Plastic
---
Enquire about this Power Tool